From frizzy hair to fine hair, we have a top-tested shampoo.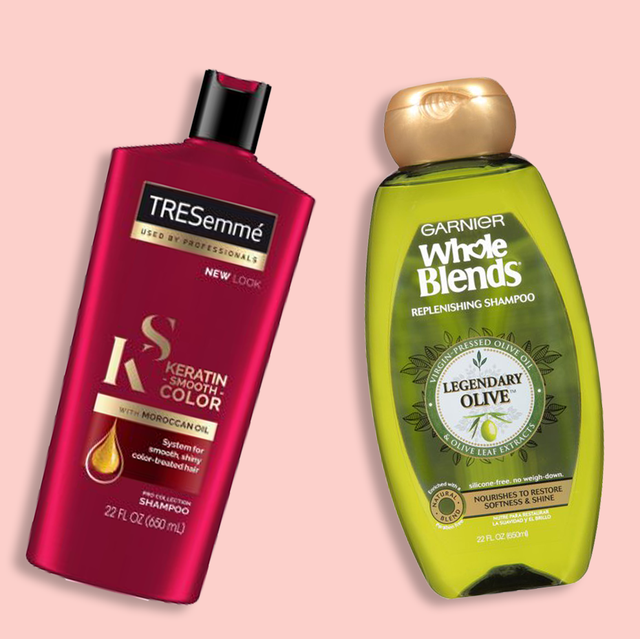 How to find the best shampoo for your hair type
For dry hair, shop "moisturizing," "hydrating," "nourishing," "replenishing" or "softening." These shampoo and conditioner formulations are made with higher quantities of conditioning ingredients to coat strands, making them silkier and more supple.
For thin/flat hair, look for"volumizing," "thickening," "bodifying," "fullness" or, to remove excess oil or buildup, "clarifying." These are formulated with the lowest level of conditioning ingredients, which can weigh down fine strands.
For color-treated hair,
For damaged hair,
For frizzy hair,

Infused with olive and argan oils, Garnier's shampoo was a one of the best in GH Beauty Lab testing for delivering a balanced cleanse, nourishing strands without feeling heavy. The shampoo plus its matching conditioner tied for second in the Lab's combing test for conditioning, yet more than 90% of users said they didn't weigh hair down. Hair was left "manageable,""supersoft" and "bouncy," testers noted, and its "fresh" scent earned a near-perfect score.

---

At less than $2(!) per bottle, you can't find a better drugstore bargain that really works than this classic Suave shampoo. Clarifying formulas are the powerhouse cleansers of shampoos, delivering the most purification and easily removing oil and dirt. This super lightweight formula is the GH Beauty Lab scientists' go-to for deeply cleaning hair samples in all of their studies.

---

From the brand famous for fighting frizz, this John Frieda shampoo softened and smoothed strands so well in GH Beauty Lab testing that testers were tempted to skip conditioner. "This really works — it's helped greatly with my frizz issue in 99% humidity," one tester marveled. Another agreed her hair was "much less frizzy".

---

Herbal Essences' intensely nourishing coconut and aloe shampoo (plus its matching conditioner) won for being the most moisturizing in the GH Beauty Lab's test of hydrating shampoos and conditioners. The shampoo lathered most and effectively cleansed and was the most conditioning formula in Lab measurements with the Instron machine, which gauges combing force in wet hair. "My dry hair was much more moisturized," one marveled.

---

One of the top performers in the GH Beauty Lab's cleansing conditioners and co-washes test, Kérastase's 2-in-1 was the most softening and detangling formula on textured hair. It ranked best in evaluations at making hair more manageable than regular shampoo did. "My curls look the best they ever have," a tester
raved.

---

The most conditioning of all the winners of the GH Beauty Lab's color-protecting shampoo and conditioner test, Hair Food's sulfate-free shampoo hit the sweet spot for rich hydration for dye-damaged hair and color-saving benefits. Used with the matching conditioner, it came in on top in the Lab's wet-combing test using the Instron device, which gauges conditioning. ""Dyeing my hair left it very dry, and I loved how moisturized it felt after just one use," a tester noted.

Make thin or fine strands big and bouncy with this Garnier shampoo, which tied with its matching conditioner for best in the GH Beauty Lab's volumizing shampoo and conditioner test. The formula came out on top for visibly increasing hair's volume in Lab evaluations. "My hair instantly felt fuller after just one use— I was shocked," a tester marveled. It "gave that oomph I don't have naturally," another agreed.

---

This sulfate-free Joico cleansing conditioner (a.k.a. co-wash), a 2-in-1 shampoo and conditioner hybrid with a higher ratio of conditioning ingredients, was a winner of the GH Beauty Lab's test of the category for giving dehydrated hair a nourishing cleanse. (The richness of cleansing conditioners makes them best for thicker strands.)  In Lab evaluations, it ranked top for making hair feel stronger and look smoother and less frizzy. "My hair is noticeably softer and healthier-looking than with my regular formulas," a tester said.

---

The refreshing Dove formula and its matching conditioner also topped the GH Beauty Lab's hydrating shampoos test as a great option for both purifying and lightly softening. These rated best for leaving hair clean and easy to style. "My hair was fantastic —  brushable, silky and flowing," a tester reported.

---

This Tresemmé shampoo and its conditioner match won the GH Beauty Lab's test of color-preserving formulas with, well, flying colors. Post-use, the color of hair samples faded least after 20 washes and 10 hours of UV exposure in Lab evaluations. "My color did not fade, and my hair is soft and shiny," a fan said.