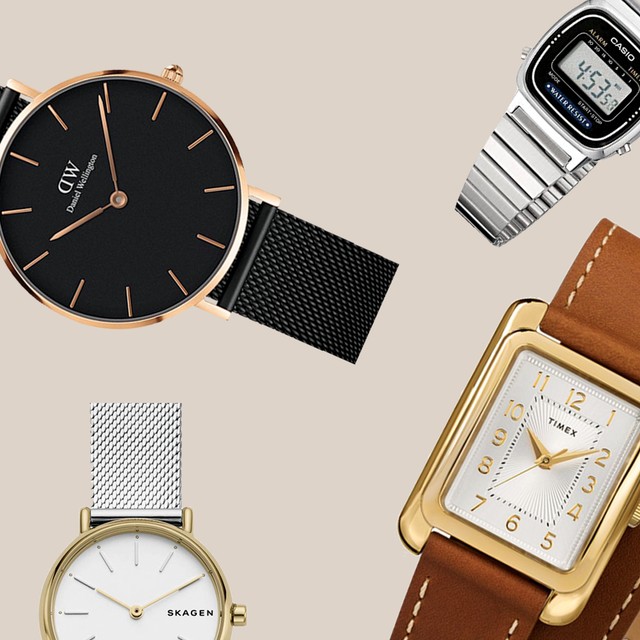 Out of all of the accessories, the watch is definitely the most polished. You can think of them as a silent way to say, "Yeah, I have my sh*t together," without ever opening your mouth. Seriously, you could even wrap one around your wrist while chilling in jeans and a T-shirt, and it'll instantly make you look a tad more pulled together.
"Who is that punctual queen?!"—everyone looking at any woman wearing a watch.
So whether you're into pretty, oversized designs you could have borrowed from your dad or more into something that's dainty, delicate, and trimmed in pearls, you need to make sure you have at least one in your jewelry box. Your shopping journey is about to be easy peasy because I'm dropping 12 of the best watch brands for women below. Some are so affordable you might wanna buy for a friend or a loved one too. You're welcome!
Classic Petite Leather Strap
Chances are you've probably seen some of your favorite influencers wearing a Daniel Wellington watch Instagram. You might as well join the fun with this supah sleek black option.
---
Anita Two-Tone Stainless Steel Mesh Bracelet Watch
Skagen makes a ton of different jewelry styles, from necklaces to earrings. But its classic watches will forever have my heart
---
FOSSIL
Georgia Rose Gold-Tone Bangle Watch
FYI: The Fossil is responsible for making watches for several other brands, even some luxury ones. Yeah, they're that good. You too can count on them for a quality timepiece.
---
Don't ya just love it when you find something that's timeless yet also feels different? That's what you'll get with all of Breda's gorgeous watch designs.
---
Lune 8 in Rose Gold and White
It'll be hard to find prettier timepieces than Nacre's. And guess what? You can even build your own by mixing and matching cases, straps, and styles.
---
TIMEX
Addison 25mm Double Wrap Leather Strap Watch
Don't sleep on this iconic label. When you want something affordable and reliable, hit 'em up. And how cool is that double wrap strap?
---
CASIO
Digital Vintage Gold-Tone Stainless Steel Bracelet Watch
Casio's analog watches will never ever get old. If you're a vintage lover, you definitely gotta peep the other styles, too.
---
You can stunt on all of your friends with any of this brand's subtle yet gorgeous watches. Don't worry about ruining the crystal face on this one because it's scratch-resistant.
---